DUANE EDDY CIRCLE ANNUAL CONVENTION
THE SIXTH DUANE EDDY CIRCLE ON-LINE CONVENTION WAS HELD ON SUNDAY 21 MAY 2023
4.00pm UK/17.00 Europe/EDT 11.00am/CDT 10.00am/MST 9.00am/PDT 8.00am
HERE'S THE PROGRAMME
RAMROD (Royal Festival Hall 2010)
Arthur introduces Frank Acomb who talks about the interviews
FRANK & DUANE PART 1 (Home story)
TRIBUTE TO CHET ATKINS
THE WINDOW UP ABOVE (Nashville Now 1993)
CANNONBALL RAG (1974 radio version) /TRAMBONE (Live CAAS 1999)
SAN ANTONIO ROSE (SPECIAL JAM)
DUCKBILLED PLATYPUS (EMI 2011 special edit)
JIM HORN TALKS ABOUT HOW HE MET DUANE
TREMBLER (Jeff Lynne, George Harrison…story of…Nat Born Killers clip)
A THUNDER OF DRUMMERS
3:30 BLUES (Den Haag Holland 1991)
INTERVAL (DUANE UNISSUED SONG)
KOMMOTION (Live 2018)
GIBSON GUITARS
Philip & Rod discussed THE TWANG GANG
MISS TWIST
LOS MOS AMIGOS (Colpix unissued 1966)
FRANK & DUANE PART 2(Elvis)
MENDOCINO (Radio edit)
MONSOONPLUS(INCLUDES UNISSUED REPRISE TRACK)
JACK MILLER
RAFFLE
SASHAY (Live 1984)
LET'S DO THIS
ARTEFACTS OF TWANG - Brian Setzer (That's How It Was)(unissued)
REBEL ROUSER (Clapham London version)
WILL THE CIRCLE BE UNBROKEN


The Convention lasted just over 2 hours.
"Join us to celebrate the 40th Anniversary of Duane's first "Baked Potato" concert.
Jim Grant has been delving into his archive to unearth some rare audio & video clips.
Like the previous Convention, we will discuss some of the artists who have been involved with Duane, and we will also cover the career of Jack Miller, who was the engineer at Audio Recorders. Philip Pell will discuss and demonstrate Duane's signature Gibson guitar.
Take a trip back in time to enjoy a track by the Twang Gang.
And don't forget our Free Raffle – prizes include an autographed CD and Road Trip posters, together with some "Lucky Loser" prizes.
Keep on checking our Facebook page for updates.
You must pre-register for the Convention at duaneeddycircle2@gmail.com
And it is free-of charge!!
Please don't delay – sign up today!!BE SURE TO RESERVE YOUR PLACE BY EMAILING THE CIRCLE EMAIL ADDRESS FOR YOUR INVITE"
++++++++++++++++++++++++++++++++++++++++++++++++++++++++++++++++++++++++++++++++++++++++++++++++++
THE FIFTH DUANE EDDY CIRCLE ON-LINE CONVENTION FOR 2022 HELD ON SUNDAY 18 SEPTEMBER 2022
4.00pm UK/17.00 Europe/EDT 11.00am/CDT 10.00am/MST 9.00am/PDT 8.00am

Here's the programme
1. TRIBUTE TO QUEEN ELIZABETH II 2. INTRO 3. DUANE AT THE HOLLYWOOD BOWL OCT 1963 4. RADIO 2 JOHNNIE WALKER INTERVIEW 2018 (edited) 5. DUANE EDDY CIRCLE BEGINNINGS/CONVENTIONS 6. EDDIE MANION (Sax player) INTERVIEW 2022 7. RALPH SMITH/DUANE EDDY – SHOWDOWN(unissued) 8. DUANE EDDY IN CONCERT PART 1 (60/63) 9. DUANE EDDY & NOKIE EDWARDS - HARD TIMES 10. LIFE OF LARRY KNECHTEL 11. DUANE EDDY/DOYLE DYKES - I SAW THE LIGHT (unissued) 12. INTERVAL (WAYLON JENNINGS - BUDDY HOLLY medley) PRODUCED BY DUANE 13. THE TUBE 1986 (IN FULL including SHAZAM & PETER GUNN) 14. DISCUSSION on the TWANG GANG 15. TWANG GANG - PEACE IN THE VALLEY 16. DUANE EDDY IN CONCERT PART 2 17. OOBU JOOBU (ROCKESTRA & YESTERDAY) 18. TVAM - CIRCLE & GUITARS 19. THE JD SET 20. RAFFLE 21. DUANE EDDY - ARTIFACTS OF TWANG TRACK (unissued) 22. DUANE EDDY - REBEL ROUSER - NASHILLE CATS 2016 23. DUANE EDDY - WILL THE CIRCLE BE UNBROKEN
++++++++++++++++++++++++++++++++++++++++++++++++++++++++++++++++++++++++++++++++++++++++++++++++++
THE FOURTH DUANE EDDY CIRCLE ON-LINE CONVENTION SUNDAY 21ST NOVEMBER at 4.00pm (16:00)
(5:00pm 17.00 Europe/ 11.00am EST /10.00am CST/8.00am PST/3.00 am Monday AEDT/5.ooam NZDT)
Programme/Videos played
1. 3:30 BLUES SENIGALLIA 2013 2. CAN'T LET GO 2021 3. 3 EARLY SONGS (Thats The Way I Feel/Have Love Will Travel/Pretty Jane) 4. Discussion on DE500 guitar 5. STEUBEN AWARD 2020 6. BLUEBERRY HILL live by Tony Szpala 7. WHAT NOW MY LOVE- REPRISE TRACK (KARAOKE STYLE) 1966 8. RAFFLE 9. COUNTRY DREAMS - Unissued 1974 10. I AM A PILGRIM-Unissued Duane Eddy/Doyle Dykes 11. Discussion on Twang Gang (Live band at conventions) 12. DREAM LOVER- Twang Gang version 13. COPPER MOUNTAIN CONCERT (Slideshow Aug 2009) 14. Discussion at Musicians Hall of Fame 15. AWARDS 2008 - Musicians Hall of Fame Induction Ceremony/Concert in 2008 16. Arthur Moir's Oddities - Polish postcards 17. THE QUIET 3 (live in concert very rare 1975) 18. EL CORRIDA-Unissued COLPIX 1966 19. ALONG CAME LINDA live by Philip Pell 20. LES PAUL INTERVIEW (on US TV prior to concert Saturday, Nov. 15 2008 at Playhouse Square's State Theatre Cleveland) 21. THREE LITTLE MIRACLES 2003 22. RESULTS OF ON LINE FAVOURITE B SIDE POLL - Jack Walton declared "Saints and Sinners" the winner 23. SHEFFIELD 24. DUANE EDDY EXCLUSIVE CONVENTION VIDEO 2021 25. World premiere track from unissued "ARTIFACTS OF TWANG" album 26. REBEL ROUSER(Stagecoach2014) 27. OUTRO(Will The Circle Be Unbroken - Duane Eddy version)
The Convention ran for about 2 hours with a half time break of around 10 minutes.
There was a free raffle – 1st prize was an 8x6" sheet autographed by Duane; the 2nd & 3rd prizes were both copies of Lee Hazlewood's final CD, CAKE OR DEATH that features Duane on a brilliant version of BOOTS
.
The Convention is free but you had to register in advance by e-mail at decnov21@gmail.com no longer available
+++++++++++++++++++++++++++++++++++++++++++++++++++++++++++++++++++++++++++++++++++++++++++++++++++++++++++++++++++++++++++++++++++
THE 3rd WORLD-WIDE ONLINE DUANE EDDY CIRCLE CONVENTION (and our 43rd convention since 1978 )
Sunday May 30th @ 4.00pm UK time 17.00 European Time/ 8.00-noon US Time/ Antisocial time "down under"
There was record attendance at the 3rd worldwide convention. Here are details of the programme:- DUANE EDDY CONVENTION 30 MAY 2021 Running order 15:41 PRE-CONVENTION BACKDROP VIDEO
1. PETER GUNN Live 2000
2. BURN (1978 UNRELEASED)
3. BIRMINGHAM ENCORES 1990 (Dixie/Pepe/Trambone/Along Came Linda)
4. "MAD" 2013 (new video) *
5. "BLUE JADE" Live 2013
6. "I WALK THE LINE" 1972 (unreleased produced by Jimmy Bowen)
7. DUANE EDDY- world premiere exclusive (UNRELEASED TRACK)
8. PHILIP PELL & THE GUITARS OF DUANE EDDY
9. "KOMMOTION" Manchester 2018
10. FLOYD RAMSEY INTERVIEW (1979)
11. "BECAUSE THEY'RE YOUNG" (2010 Royal Festival Hall)
12. DISCUSSION
13. "FATA MORGANA"(Theme Swedish TV film 1978)
14. INTERVAL (Unreleased track)
15. "HARD TIMES" Live 2018
16. "THERE IS A MOUNTAIN" 1967 (undubbed-unreleased)
17. CONVENTION RAFFLE
18. "YOU CAN'T SIT DOWN" LIVE (San Francisco 1985)
19. ARTHUR MOIR'S rare items DUANE EDDY RELEASES *
20. THE TOP FIVE DUANE EDDY TRACKS AS VOTED DURING THE CONVENTION
19. TWANG GANG "HIGH NOON" 2009
20. VISIT TO MUSICIANS HALL OF FAME WITH JAY MCDOWELL
21. "KICKIN' ASPHALT" NASHVILLE NOW DANO VERSION Aug 1987
22."ROAD TRIP" SHEFFIELD June 2011
23. SPECIAL VIDEO FROM DUANE
24. DUANE EDDY world premiere exclusive (UNRELEASED TRACK FROM ARTIFACTS OF TWANG)
24 "REBEL ROUSER" from SHINDIG 1965
25. " WILL THE CIRCLE BE UNBROKEN"
All items unreleased apart from *
Thanks for the great feedback
++++++++++++++++++++++++++++++++++++++++++++++++++++++++++++++++++++++++++++++++++++++++++++++++++++++++++++++++++++++++++++++++++++++++++++++++++++++++++++++++
DUANE EDDY CIRCLE CONVENTION 2020 DATES WERE 28 JUNE AND 29 NOVEMBER 2020
WORLDWIDE USING ZOOM (see facebook page for details)
DUANE EDDY CONVENTION Sunday 29 NOVEMBER 2020
Here is the rundown of the two hour programme and music played at the convention
LIVE MUSIC
Tony Spazla - Pepe - Bob Berryhill (Safaris)- Rebel Rouser/Rumble/Point Panic - Philip Pell - Medley of Duane Eddy songs
VIDEOS
'GHOST RIDERS IN THE SKY' LIVE / MAKING OF BROKEN ARROW - 'LONESOME REUBEN' / AMERICAN ROUTES 20 - 'WAITING FOR THE MIRACLE/' LOVE IS A WARM EMOTION'(INST) - Twang Gang, 'SOMETHING REALLY IMPORTANT' - THREE NEW 2020 SONGS (Junk/She Don't Wear Pink/Stand By Me) - 'LAZY DAYS'- Unreleased
Interval 'WINTER DREAM EXTENDED VERSION'
'MENDOCINO' - radio edit - 'I GOTTA WOMAN'- (Special jam session version) - 'LIGHTS OF MARFA' / 'PROVOCATEUR'- (Unreleased) - 'I SAW THE LIGHT'/ 'FARTHER ALONG' - 'LETS DO THIS' - ROYAL FESTIVALL HALL UK MEDLEY OF 3 SONGS - (STALKIN/THE LONELY ONE/FIRST LOVE FIRST TEARS) - 'REBEL ROUSER' (Corki (Casey) O'dell version with indction) into 'WILL THE CIRCLE BE UNBROKEN'
All videos were special versions not available anywhere else.
Sunday 28 June 2020
This was the running order for the convention
INTRO – BALLAD OF PALADIN - DETOUR LIVE 2018/GRETSCH HISTORY/RCA STUDIO - TWANGO - NASHVILLE SPYLINE STEVE WARINER & DUANE - DANGER GOD (WITH CLIPS FROM SAVAGE SEVEN) NEW DUANE TRACK - "ALONG CAME LINDA(NEW BRIDGE VERSION)" - TONY SZPALA - PLAYED LIVE "LONDONDERRY AIR" - DUANE TRIBUTE TO CHUCK BERRY - BOB BERRYHILL OF THE SURFARIS PLAYED LIVE- "RAMROD/WIPE OUT" - MELLOW YELLOW LIVE BRISTOL 1967 - 3:30 BLUES LIVE ROYAL FESTIVAL HALL 2010 - CURVEBALL LIVE VIVA LAS VEGAS 2015 - BLACKWATER ARLEN ROTH & DUANE - NEW DUANE TRACK –" LET'S DO THIS" - PHILIP PELL PLAYED LIVE "DANNY BOY" - A THUNDER OF DRUMS WITH STUDIO SOUND - NEW DUANE TRACK– UNTITLED - BOBBY DARIN/DUANE COMPLETE DE PERFORMANCE 1960 - REBEL ROUSER (PONDEROSA STOMP 2010) INTO WILL THE CIRCLE BE UNBROKEN
A pioneering event live as it happened broadcast worldwide
THE 2020 DUANE EDDY CIRCLE CONVENTION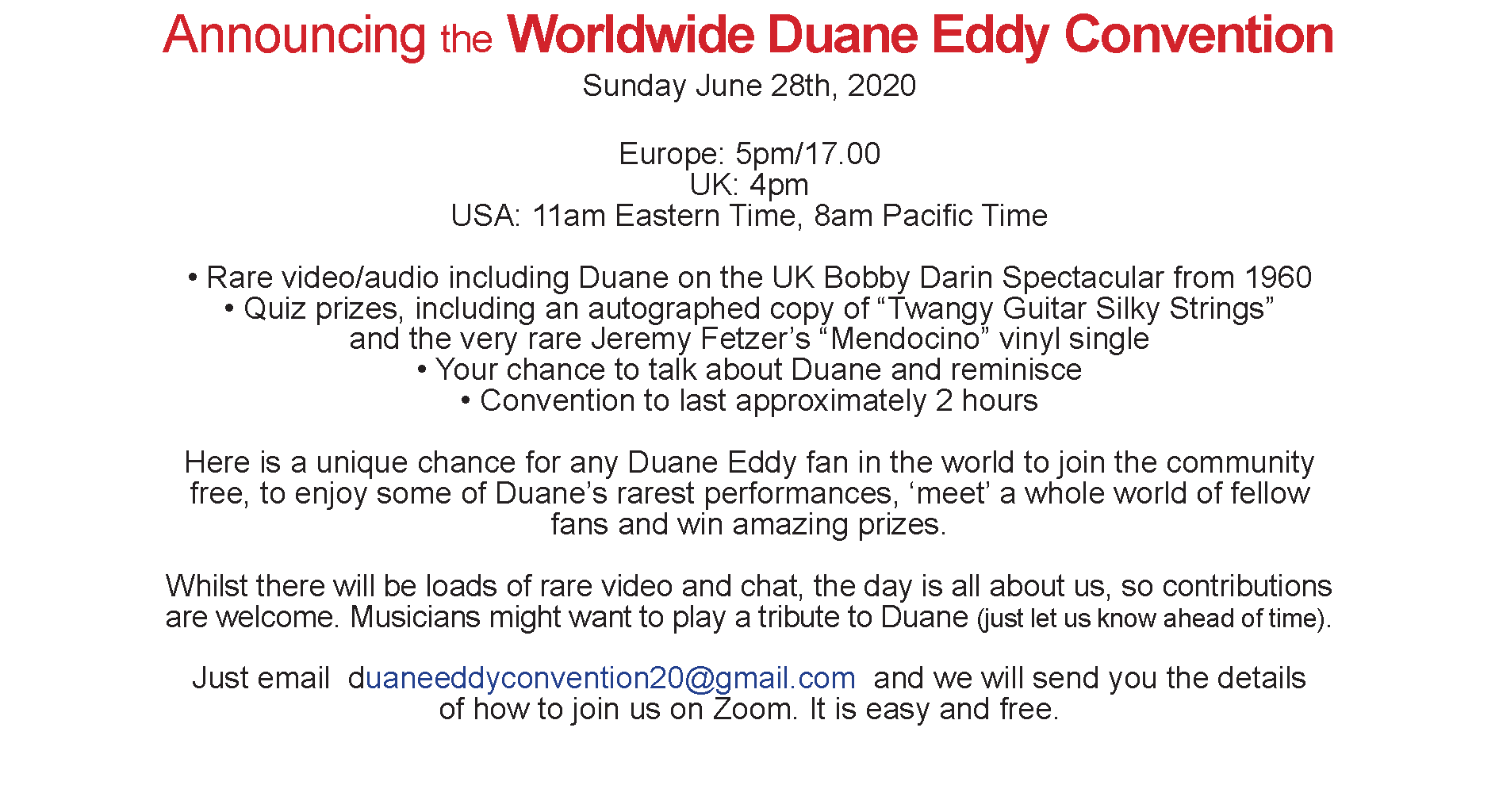 +++++++++++++++++++++++++++++++++++++++++++++++++++++++++++++++++
Previous convention details available in archive area go here
Reports on coventions 2007-2019 in archive area