DUANE EDDY CIRCLE ANNUAL CONVENTION
NEXT ONLINE CONVENTION CONFIRMED FOR SUNDAY MAY 30 2021 AT 16:00 (UK TIME)
THE 3rd WORLD-WIDE ONLINE DUANE EDDY CIRCLE CONVENTION (and our 43rd convention since 1978 )
Sunday May 30th @ 4.00pm UK time 17.00 European Time/ 8.00-noon US Time/ Antisocial time "down under"
We had a great time at our 2nd Virtual Convention back in November – it was great to see so many "old faces" from the 1st Convention, plus several new faces.
Duane got us off to a brilliant start with GHOSTRIDER from Nashville TV and then we went on to a fascinating clip of the making of "Broken Arrow" – and a little later it was back to film music with the soundtrack of "Waiting For A Miracle". Bob & Gene Berryhill joined us and treated us to a neat version of "Point Panic". Later on Jim Grant introduced us to some unreleased tracks – and you could hear a pin drop while they were played!! And just as Duane does, we played out to REBEL 'ROUSER recorded at the Musicians Hall of Fame & featuring Corki!!!
On May 30th we will be doing it all over again, but with some new exciting additions!! Like last time, we will split the next on-line Convention into 2 sections so we all have time for a break and we will be featuring plenty of rare video of Duane, including an unseen clip from Duane's pre-Glastonbury gig at The Greystones in Sheffield. Philip Pell will compare Duane's new Gretsch 6-string Bass Guitar to the Danelectro guitars. Arthur Moir will be presenting a live version of his "oddities". Jim Grant is coordinating with Duane to present some exclusive material. We will take a look back at Convention 2009 with "High Noon" – featuring the Twang Gang along with Emma Robbins & Rita Campbell, bringing their own very special "magic" to the tune. This time round, we will feature both a MasterMind Quiz and a Raffle so when you sign up, you will be allocated a raffle number and Anne Moir will draw the winning tickets for us; a list of prizes will be in the next newsletter.
IMPORTANT To secure an invite for our third on-line Duane Eddy Circle Convention, please send an e-mail to us at decmay21@gmail.com
You do not need to be a member – and it is free. Please note that this address is different from the one we used for previous Conventions. You must email this new address to get access to the Convention. Even if you attended the previous on-line Conventions you must register for this one.
Looking forward to "seeing you" on May 30th.
++++++++++++++++++++++++++++++++++++++++++++++++++++++++++++++++++++++++++++++++++++++++++++++++++++++++++++++++++++++++++++++++++++++++++++++++++++++++++++++++
DUANE EDDY CIRCLE CONVENTION 2020 DATES WERE 28 JUNE AND 29 NOVEMBER 2020
WORLDWIDE USING ZOOM (see facebook page for details)
DUANE EDDY CONVENTION Sunday 29 NOVEMBER 2020
Here is the rundown of the two hour programme and music played at the convention
LIVE MUSIC
Tony Spazla - Pepe - Bob Berryhill (Safaris)- Rebel Rouser/Rumble/Point Panic - Philip Pell - Medley of Duane Eddy songs
VIDEOS
'GHOST RIDERS IN THE SKY' LIVE / MAKING OF BROKEN ARROW - 'LONESOME REUBEN' / AMERICAN ROUTES 20 - 'WAITING FOR THE MIRACLE/' LOVE IS A WARM EMOTION'(INST) - Twang Gang, 'SOMETHING REALLY IMPORTANT' - THREE NEW 2020 SONGS (Junk/She Don't Wear Pink/Stand By Me) - 'LAZY DAYS'- Unreleased
Interval 'WINTER DREAM EXTENDED VERSION'
'MENDOCINO' - radio edit - 'I GOTTA WOMAN'- (Special jam session version) - 'LIGHTS OF MARFA' / 'PROVOCATEUR'- (Unreleased) - 'I SAW THE LIGHT'/ 'FARTHER ALONG' - 'LETS DO THIS' - ROYAL FESTIVALL HALL UK MEDLEY OF 3 SONGS - (STALKIN/THE LONELY ONE/FIRST LOVE FIRST TEARS) - 'REBEL ROUSER' (Corki (Casey) O'dell version) into 'WILL THE CIRCLE BE UNBROKEN'
All videos were special versions not available anywhere else.
Sunday 28 June 2020
This was the running order for the convention
INTRO – BALLAD OF PALADIN - DETOUR LIVE 2018/GRETSCH HISTORY/RCA STUDIO - TWANGO - NASHVILLE SPYLINE STEVE WARINER & DUANE - DANGER GOD (WITH CLIPS FROM SAVAGE SEVEN) NEW DUANE TRACK - "ALONG CAME LINDA(NEW BRIDGE VERSION)" - TONY SZPALA - PLAYED LIVE "LONDONDERRY AIR" - DUANE TRIBUTE TO CHUCK BERRY - BOB BERRYHILL OF THE SURFARIS PLAYED LIVE- "RAMROD/WIPE OUT" - MELLOW YELLOW LIVE BRISTOL 1967 - 3:30 BLUES LIVE ROYAL FESTIVAL HALL 2010 - CURVEBALL LIVE VIVA LAS VEGAS 2015 - BLACKWATER ARLEN ROTH & DUANE - NEW DUANE TRACK –" LET'S DO THIS" - PHILIP PELL PLAYED LIVE "DANNY BOY" - A THUNDER OF DRUMS WITH STUDIO SOUND - NEW DUANE TRACK– UNTITLED - BOBBY DARIN/DUANE COMPLETE DE PERFORMANCE 1960 - REBEL ROUSER (PONDEROSA STOMP 2010) INTO WILL THE CIRCLE BE UNBROKEN
A pioneering event live as it happened broadcast worldwide
THE 2020 DUANE EDDY CIRCLE CONVENTION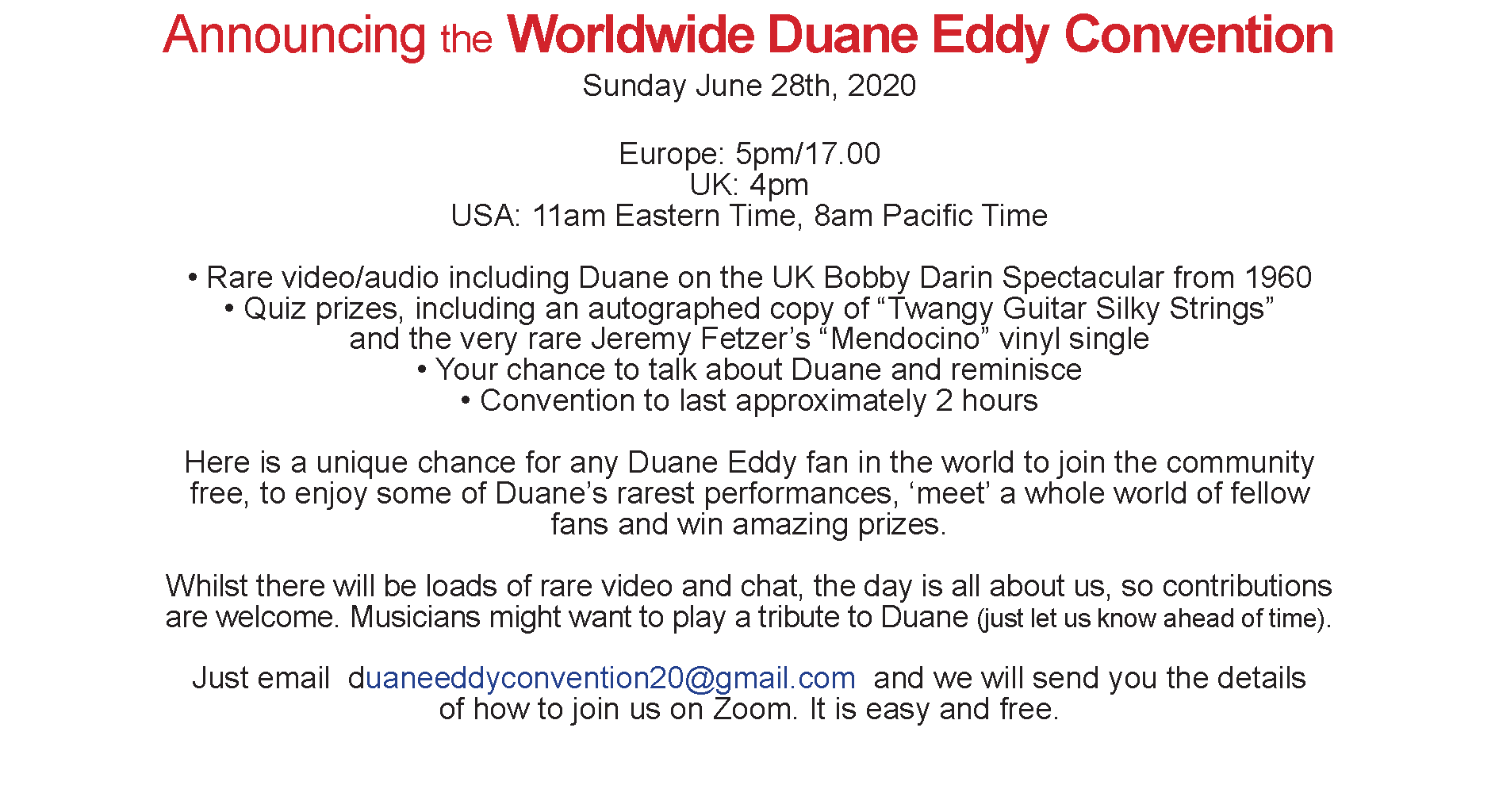 +++++++++++++++++++++++++++++++++++++++++++++++++++++++++++++++++
Previous convention details available in archive area go here
Reports on coventions 2007-2019 in archive area